2017 Summer Theatre Camps
StageCoach Theatre Company is supporting 2 theatre camps being offered at Eagle Ridge Middle School.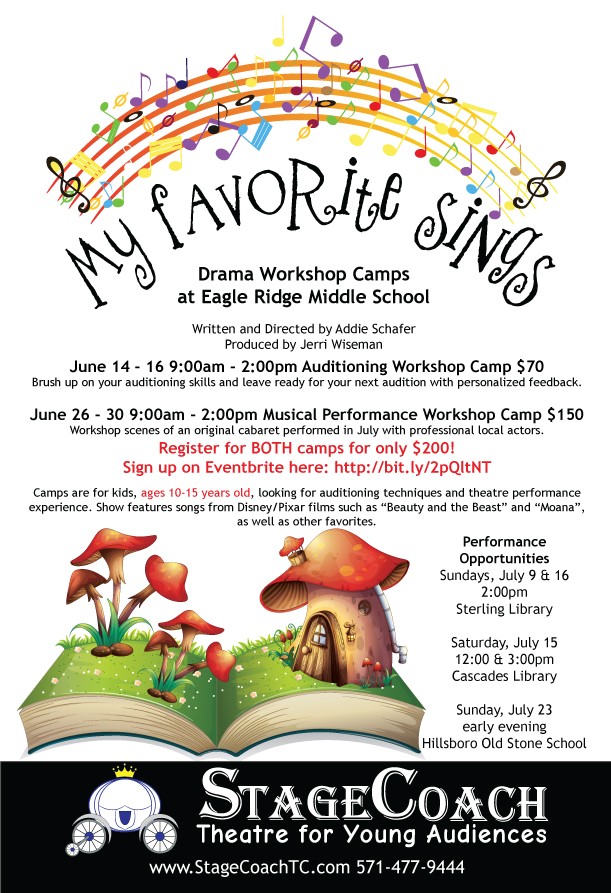 "My Favorite Sings" Drama Workshop Camps will be held for students ages 10-15 years old. Come learn auditioning skills and workshop a cabaret for real performance opportunities. During the evening of June 13th, we will hold an informational night from 4:00 – 7:00pm.
The Auditioning Camp runs June 14th-16th. $70
Brush up on your auditioning skills and leave ready for your next audition with personalized feedback.
The Musical Performance Camp runs from June 26th-30th. $150
Workshop scenes of an original cabaret performed in July with professional local actors.
Both camps will be held 9:00am – 2:00pm at Eagle Ridge Middle School. Register for both camps for a combined price of $200.
Register here for $200 (including all camp, performance, and costume fees). RSVP for July performances (weekends July 9th-23rd Saturdays and Sundays 12pm and 2pm shows) for a chance to work with professional actors at local schools as well as Sterling and Cascades libraries. After signing up for camp, you will receive a follow up email to RSVP for these optional performances with local actors through StageCoach Theatre Company.
Sign up for the auditioning camp by selecting the "Extended Auditioning Camp", sign up for the performance camp by selecting the "Workshop Camp Registration" or sign up for both by selecting the "Combo Audition and Workshop Camp" for a discount! *In order to be eligible for performances, students must attend the Workshop Camp June 26th-30th.