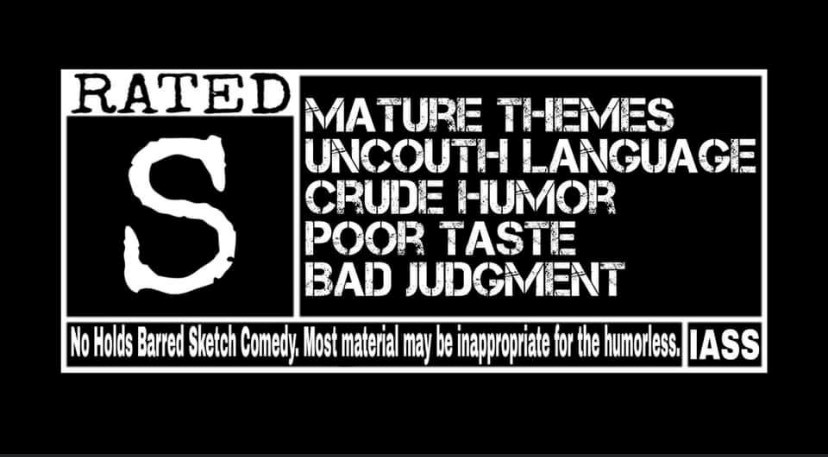 FOR IMMEDIATE RELEASE
RATED S ANNOUNCES FIRST SHOW DATES FOR THEIR INAUGURAL 2021-22 SEASON
(SCTC-Ashburn)  Ashburn's own Rated S sketch comedy troupe, best known for combining poor taste and bad judgement with hilarious results, has announced their first ever, live and in-person show dates for their inaugural 2021-2022 season at StageCoach Theatre in Ashburn, VA. Rated S LIVE! debuts on Friday, October 22nd with a second show slated for Friday, November 5th. So you say you've been trying for years to get tickets to a certain late night TV show live from NY? Well, here's your chance to experience world-crass comedy without having to trek all the way up to NYC. Original sketches! Digital Shorts! Live music performances! ! Tell all your friends but don't tell your mother – It's A Skit Showtm. Tickets on sale now for in-theater and live-streaming. (Some material may be inappropriate for the humorless)
When making your reservations, please note that you are the first person counted. Each additional person you are bringing is considered your GUEST. Please check the final amount charged to be sure you have not bought more tickets than you want. If you require assistance, please email us at info@stagecoachtc.com or call us at 571-477-9444. Thank you.
PG13
LIVESTREAM - For All Dates
StageCoach Theatre - October 22
StageCoach Theatre - November 5
We are still looking for writers and performers. Please contact us at itsaskitshow@gmail.com
This opportunity is currently UNPAID.