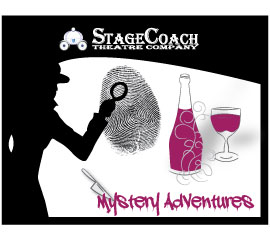 $35 per person includes an original murder mystery puzzle customized to your group. Clue sheets to the murder mystery will be provided as you work with several character actors to solve the puzzle. Prizes will be awarded at the end of the adventure.
A mystery adventure takes approximately 2.5 – 3.5 hours. Please arrive at the starting venue at least 15 minutes early.
When the event is staged at local wineries: Wine tastings will be scheduled at the very start of the event and are available at each winery for an additional charge, to be paid directly to the winery. Wine tastings range from $8 – 15 per person depending on the group rate for the wineries that we visit on the tour. This cost is paid directly to the wineries due to VA ABC regulations. The wineries will require a prepaid deposit to cover the cost of the wine tastings. We anticipate that the majority of guests on a tour will be participating in the tastings. You may select to purchase bottles of wine in lieu of the wine tastings; a minimum purchase may be required by the winery for use of their space. You must be 21 years of age or older to participate in the wine tastings. Juice, soda or water will be available for purchase at the wineries for those who do not wish to drink wine. If mobility is limited, please let us know in advance since this could dictate the winery locations scheduled for your event. Lunch boxes are available for $12.50 each, payable in advance of the tour. Please ask to see the current selection. Orders must be placed 1 week prior to the event.
When the event is scheduled at a local restaurant: Your lunch orders will be taken at the very start of the event. Food and drink orders are payable directly to the restaurant.
A minimum payment of $350 will cover up to 10 guests in order to secure the date. We will send you an invoice for advance payment.
Reserve your places on a mystery adventure now!
Email us with the following information:
Date requested. Friday and Sunday options may be available if scheduled in advance and subject to actor and winery availability.
Number of people in your party
If you will be celebrating a special event (We love a party!)
(Please also include a phone number in your comments. We have had some issues with our responses not getting through. We generally respond within 48 hours. If you haven't heard back from us, please call (571) 477-9444. Thank you.)
Cancellation Policy:
Mystery adventures continue in case of rain. Please bring an umbrella or rain coat if it looks like it will rain. The event will be cancelled only in the case of severe weather.
Purchases are final. If we cancel the event for any reason, you will be able to book another date or receive a complete refund. If you cancel within 72 hours PRIOR to the start of the event, there is no refund. Your tickets are transferable though and you may send someone in your place or sell your ticket for the original date.