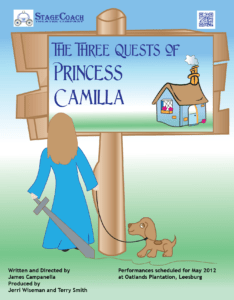 Auditions for our next children's show are scheduled for March 2 and 3.
Friday, March 2 from 6:30 – 9:00pm
Saturday, March 3 from 1:00 – 4:00pm
Venue: 44121 Harry Byrd Highway (Rt. 7) Suite 240, Ashburn, VA 20147 (upstairs from Coney Island Diner)
Auditions will consist of cold readings from the script. Those auditioning for singing roles will be asked to sing. Please bring your own accompaniment (CD, iPod, etc.) or be prepared to sing a cappella. There are roles for 5 women, 3 men, plus the chorus and other supporting characters. Ages 18 – 100. Non-equity actors only.
Performances are scheduled for May 2012.
Characters:
Major roles (Many lines that move the story.  Plus solo musical numbers)
Princess Camilla: Young heir to the throne.  She is spoiled, stubborn, and inconsiderate.  She sees the servants and townsfolk as dull and useless and she doesn't really care what they think.  Consequently, she has no friends. Note: Camilla does sword fighting.
The Grand Vizier:  She is grounded and realistic.  She is the voice of reason, but it is cloaked in riddles.
Major Supporting characters (Many lines and/or solo phrases within choral numbers)
The King: (no singing)  He is a strong and determined king.  He is all about the job, making sure his kingdom and subjects have all that is needed.  He is too busy to spend time with his daughter.
The Queen: (no singing)  Proud, regal, and totally absorbed with being queen.  She loves the social side of the throne especially when it involves fashion.  She believes that all the Princess needs to improve herself is a new outfit.
Camilla's Chambermaid: She is grounded and realistic, but she knows her place as a servant to the Princess.  She is sympathetic to Camilla.
Captain of the Guard:  Camilla's personal guard.  He is trustworthy and reliable.
Prince Max:  Handsome, kind, and all that a prince should be.   Note: Prince Max does sword fighting.
Specialty Supporting Character
Gruma the Ogre: (No lines or songs but physically expressive) Female Ogre who lives in the forest.  Large, initially frightening, but with a large heart and love of all creatures.
Minor Supporting Characters (Some lines and joining in chorus, if possible)
King's Adviser
Queen's Seamstress (or Tailor)
Apprentice to the Seamstress
Wondering Peasant
Chorus of Villagers (Number to be determined) (1 Chorus song which reprises at the end)